CarniLac - The revolution of puppy milk
€19.90*
Content:
200
(€99.50* / 1000 Gramm)
Product number:
C00LAC01000200.2
Product information "CarniLac - The revolution of puppy milk"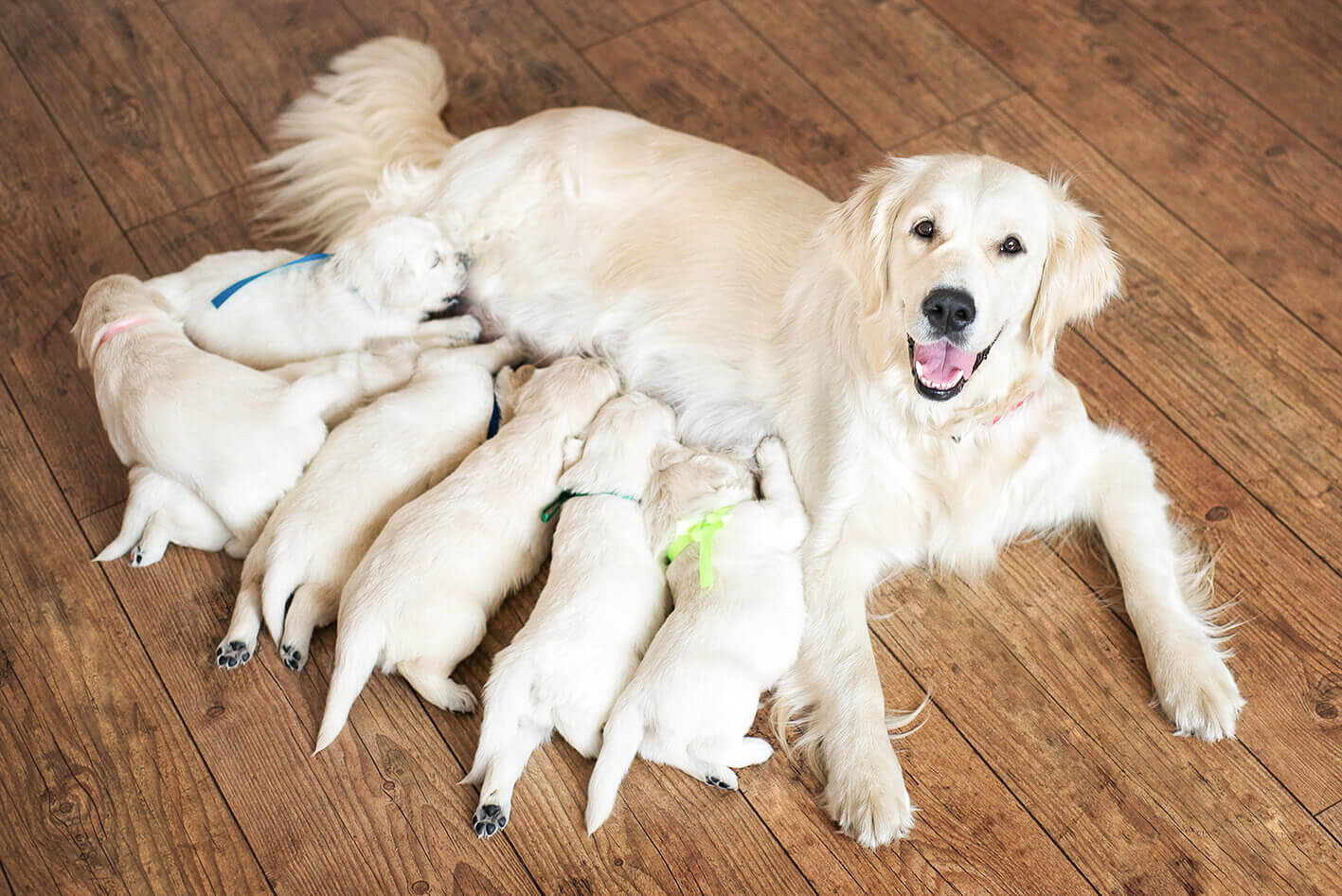 1 to 1 replication of breast milk
Reduced feeding frequency (3-4 times a day)
Free from harmful trans fatty acids
Restorative food for adult and weakened animals
Particularly easy to digest
Puppy milk from the first day of life to puppy mash, supplementary food for adult and weakened dogs.
Nothing is better than mother's milk, but if this is not available at all or not enough CarniLac will help your puppies to grow up optimally. The high energy density and balanced protein supply enable healthy growth and strong skeletal development.
Avoids the dreaded diarrhoea and is particularly easy to digest.

1 -to -1 replica of mother's milk

due to the naturally high energy density, only three to four feedings per day are required

protection and optimal strengthening of the body's defences

protection of the sensitive gastro-intestinal tract and kidneys

without hydrogenated vegetable oils and therefore free from trans fatty acids

recommended by vdh breeders
the best is undoubtedly nature, but CarniLac is the healthy alternative for:
Puppies
complete food for problem-free motherless rearing from day one
healthy supplementary food for puppies in the rearing phase
adult animals
optimally compatible calorie-dense supplementary food for pregnant and lactating breeding bitches and cats

for convalescent, weakened and emaciated animals as well as poor eaters and for dogs with sporting requirementsn
CarniLac is also suitable for other animal species:
Dog, cat, ferret, hedgehog, hare/rabbit, squirrel, dormouse, forest dormouse, degus, guinea pig, rat, feline predator, bear, deer, seal
Please use only the following oils
Maize germ oil
Sunflower oil
Soya oil
Wheat germ oil
Linseed oil, rapeseed oil, fish oil, olive oil and butterfat must not be used due to the high content of polyunsaturated fatty acids and the fatty acid composition. These oils cause serious digestive problems in puppies and kittens and can cause kidney damage.
Preparation
Boil water, allow to cool slightly and stir in the milk powder at a temperature of 50 c without lumps. Add oil, mix everything well again, let it cool down and feed at a temperature of 37c! Check the temperature on the wrist before feeding.
Mix 8 g milk powder (1 large measuring spoon) per 40 ml water and 4 ml oil.
One large measuring spoon holds 8 g of carnilac powder spread out.
The small measuring spoon holds 1.5 g of carnilac powder.
The milk should always be prepared as fresh as possible. To prevent oil and liquid from segregating, shake the bottle with the finished milk again immediately before feeding, also when taking breaks from drinking and feeding several puppies/kittens.
Attention: oil and water segregate quickly unless an emulsifier is used. We deliberately avoid the use of emulsifiers and hydrogenated fats!
To the dosing calculator
dosing calculator
Did you know that you can make over 4 litres of ready-to-eat puppy milk from one container of carnilac (650g)?
Please select an animal:
Schritt 1: The amount?
Body weight (in g)

| | | | | |
| --- | --- | --- | --- | --- |
| ready milk | Water | Carnilac powder | Measuring spoon | Oil |
| 9,75 ml | 7,5 ml | 1,5 g | 1 small measuring spoon | 0,75 ml |
| 19,5 ml | 15 ml | 3 g | 2 small measuring spoons | 1,5 ml |
| 50 ml | 40 ml | 8 g | 1 big measuring spoon | 4 ml |
| 100 ml | 80 ml | 16 g | 2 big measuring spoons | 8 ml |
| 150 ml | 120 ml | 24 g | 3 big measuring spoons | 12 ml |
| 200 ml | 160 ml | 32 g | 4 big measuring spoons | 16 ml |
| 250 ml | 200 ml | 40 g | 5 big measuring spoons | 20 ml |
After feeding, stimulate the puppy's tummy with a soft, body-warm cloth to stimulate digestion. Until the 3rd week, puppies are not able to urinate or defecate on their own. Normally, the bitch stimulates the puppies' digestion by licking their tummies, so it is beneficial to imitate this behaviour of the bitch after each bottle and stimulate the little tummy. This prevents possible constipation.
Number of feedings
With CarniLac 3-4 feedings per day are sufficient. The natural milk intake of a puppy in a bitch is around 15 - 22% of its body weight per day. This may not seem like much at first, but more does not correspond to the puppy's physiology and is therefore harmful. The nutrient density in CarniLac, which is adapted to the mother's milk, makes it possible to maintain the amount intended by nature.n.
With CarniLac, puppies are fuller for longer, i. E. They sleep more and are therefore also satisfied with less frequent meals..
Depending on the necessity, appetite, weight development and well-being of the puppies, adjust the feeding frequency and quantity to the needs, 3 - 4 feedings per day are usually sufficient, more frequent meals only lead to a reduced intake per meal. .
CarniLac as puppy food and for adult animals
Carnilac is ideal for preparing puppy mush from the third week of life. Excellent faecal consistency, absence of flatulence and overall puppy development will convince you.
In case of digestive disorders (diarrhoea, vomiting), reduce the supplementary feeding immediately or stop it completely for half a day to a day.
Due to the variable fat content, carnilac is also suitable as a supplementary food for pregnant and lactating animals for optimal milk flow, as well as a restorative food for weakened, convalescent animals and performance dogs.
However, please feed your adult animal carnilac with half the amount of oil, or replace the oil in this case with lard or beef fat.
Feeding instructions for adult animals:
mix 1 measuring spoon (8g) of carnilac with water, wet food or low-fat curd cheese and 2 ml of oil (e. G. Carniomega-3 oil). The daily ration can be increased as needed.
Composition:
Sweet whey powder (desugared), calcium caseinate, spray skimmed milk powder, egg yolk powder, dicalcium phosphate, magnesium proteinate, calcium lactogluconate, potassium chloride, sodium chloride, calcium carbonate, omega-3 fatty acids (dha and epa).
Ingredients:
Crude protein 54.10%, crude fat 11.50%, crude fibre 1.00%, calcium 2.10%, phosphorus 1.70%, crude ash 12.50%.
Additives per kg
Vitamin A (3a672a)

40.000 I.E.
Vitamin D3 (3a671)

3.000 I.E.
Vitamin E (3a700)

400 I.E.
Vitamin C (3a300)

83 mg
Vitamin B1 (3a821)

47 mg
Vitamin B2 (3a825ii)

48 mg
Vitamin B6 (3a831)

39,4 mg
Vitamin B12

40 mcg
Niacinamide (3a315)

118 mg
Calcium-D-Pantothenate (3a841)

100 mg
Folic acid (3a316)

4,5 mg
Biotin (3a880)

16 mcg
Lecithin (E322)

38.460 mg
Cholin chloride (3a890)

450 mg
Taurine (3a370)

4.100 mg
DL-Methionine (3c301)

22.500 mg
iron(II) amino acid chelate hydratet (3b106)

69,9 mg
Manganese (II)-sulphate, Monohydrate (3b503)

32 mg
Glycine zinc chelate hydrate(3b607)

66,5 mg
Copper as copper(II)-sulfat

19 mg
Pentahydrate (E4)
Calcium iodate (3b202)

2,2 mg
sodium selenite (3b801)

0,45 mg
--
energy content
CarniLac-powder has 18.52 mj me per kg.
Stirred according to the dosage for puppies (16 g carnilac powder plus 8 ml oil ad 100 ml filled with water) carnilac has 0.6 mj me per 100 ml finished milk.
Etikett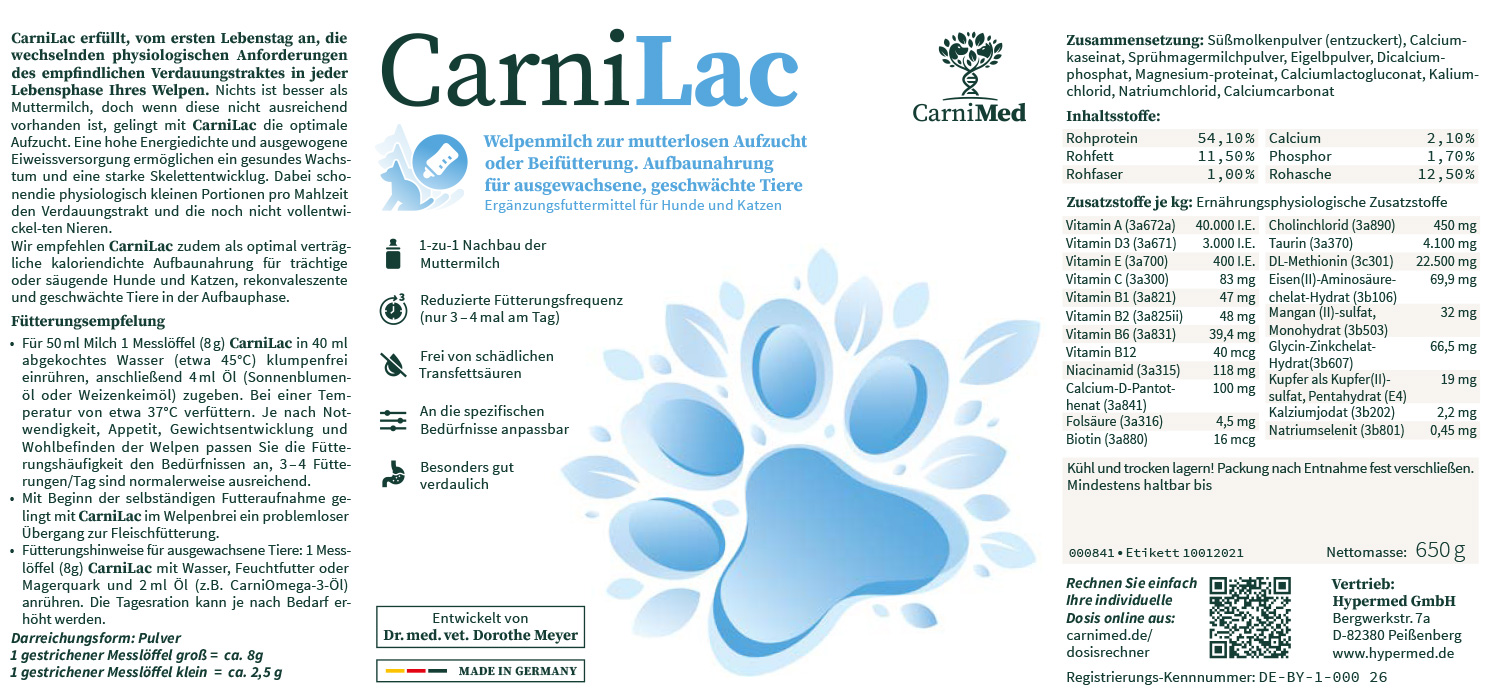 Energy bomb puppy milk
Puppies are "nest feeders", they are born blind, deaf and completely helpless. A tiny gastrointestinal tract (only about 3% of the body mass) which, like the kidneys, is not yet fully developed (gastric acid formation does not begin until the third week of life) is faced with an extremely high nutritional requirement. Hardly any creature develops as quickly as the puppy. Within a few days (7th-9th day of life) its birth weight doubles. This is only possible because the natural mother's milk with its high fat content of 8.8% in fresh milk (42% in dry matter) is a real energy bomb. But not all fat is the same, natural puppy milk has a completely different fatty acid composition than, for example, cow's or goat's milk. A high content of monounsaturated fatty acids, as well as some polyunsaturated fatty acids such as dha, which is important for the development of the brain, nervous system and retina of the eye, set high standards for the fat supply. All fatty acids essential for the healthy development of your puppy, as well as the natural lecithin important for the cell membrane, are contained in carnilac. By adding vegetable oils (sunflower, maize, wheat germ or soya oil from your kitchen) you add the remaining fatty acids as unhydrogenated vegetable oils and protect your puppy from the extremely harmful trans-fatty acids produced during fat hardening and also determine the ideal feed quantity yourself.
Special protein for growth and development
Growth depends on protein and the puppy's rapid growth requires a high protein supply. At the same time, the kidneys are not fully developed in the first weeks and do not reach their full filtration capacity until the 11th-12th week of life! Therefore, a puppy replacement milk must not only contain a lot of protein, but extremely high-quality protein. Albumin/globulin to casein fraction in puppy milk has an inverse ratio to cow's or goat's milk. The amino acid content is also different. Failure to take these facts into account not only jeopardises healthy development and growth, negatively influences the immune response, but also puts a strain on the liver and especially the kidneys and can lead to severe kidney damage and even uraemia. The amino acid supply and the ratio of the protein fractions in carnilac correspond to natural breast milk and thus ensure healthy growth and optimal skeletal development with maximum protection of the digestive tract and the not yet developed kidneys.
Restricted lactose digestion, restricted fluid intake
A high lactose content in cow's and goat's milk compared to natural puppy milk, but also in baby milk, makes it absolutely unsuitable for the sensitive puppy, leading to fermentation processes in the digestive tract and often life-threatening digestive disorders. The limited kidney filtration capacity in puppies up to 12 weeks of age requires a precisely adapted fluid supply, as well as a finely balanced supply of electrolytes, which on the one hand ensure the cell functions and the osmotic pressure in the tissues, and on the other hand prevent a strain on the kidney activity and fluid loss.
Only an extremely nutrient-dense puppy milk, which actually corresponds to mother's milk in its fat and protein content, can take sufficient account of these basic physiological needs.
CARNILAC is highly concentrated, so you need to feed much less and you have another advantage. Your puppies will thrive without any problems, sleep contentedly and full between meals and this with only three feedings per day.
Not all milk is the same
CarniLac is optimally designed for the needs of puppies, because not all milk is the same.
Our puppy milk is 1:1 identical with dog milk. In the table below you can compare the nutrient content (in brackets you will find the values related to the dry matter) with other milks:
Dog milk

Cow milk

Goat milk

Water

78%

87,2%

86,6%

Protein

7,5%
(35,7%)

3,5%
(27,3%)

3,6%
(26,85%)

Alb./Glob.

2,5%
(11,9%)

0,7%
(5,46%)

0,6%
(4,47%)

Casein

4,5%
(21,42%)

2,8%
(21,87%)

2,9%
(21,63%)

Fat

8,8%
(42%)

3,8%
(29,68%)

3,9%
(29,1%)

Lactose

3%
(14,2%)

4,7%
(36,71%)

4,7%
(35,06%)

Calcium/100 g

240 mg

119 mg

133 mg
So it is clear: your puppy is dependent on its mother's milk! But why does nature provide a far higher protein and fat supply for the puppy, but about 10% less water, than for a calf or goat lamb? The rapid development compared to a calf and the physiological principles described above place much higher demands on digestibility, energy density, protein quantity and protein quality, fat quantity and fat quality! Cow's milk, goat's milk, sheep's milk are no substitute for mother's milk. Cow's milk enriched with cream (to achieve a higher fat content) is not a suitable substitute for mother's milk.
You can read about the other physiological characteristics of a puppy and the influence of nutrition here.
Nutritional and physiological characteristics of puppies
For example, sensory organs are not yet functional, movement is uncoordinated, thermoregulation is still imperfect (optimum ambient temperature for motherless rearing is 30) and the internal organs (gastrointestinal tract, liver and especially the kidneys) are not yet fully developed. It is not for nothing that rearing losses are relatively high in the first 6 weeks (15% - 25%).
The digestive tract in the puppy is only 3% of the body mass as opposed to 6% in the adult dog.
The stomach is still relatively small and only expands from the beginning of supplementary feeding. Since acid formation in the stomach does not begin until about the 18th day of life, the puppy requires the highest quality food components. All food components that promote the multiplication of putrefactive pathogens can lead to death, as these are not killed by hydrochloric acid in the stomach.
The excretory capacity of the kidney is still low. The development of the kidney is not complete until 3 weeks after birth. The full filtration capacity of the kidneys is even reached in the puppy only at the age of 11-12 weeks. Therefore, a mother's milk substitute must offer more than twice as much protein and fat, otherwise the kidneys are at risk.
The food must be highly concentrated, because too much liquid (e. G. Cow's milk or unsuitable dry milk) not only strains the digestive tract, but also overloads and damages the not yet fully developed kidneys, because the liquid cannot yet be fully excreted.
Why artificial rearing: for most puppies, their nutritional needs-at least immediately after birth-will be met by their mother's milk. Nevertheless, a variety of problems can arise, such as death of the bitch, lack of lactation, non-acceptance of a puppy by the mother, too large a litter.
With CarniLac it is possible for the first time to determine the total fat content individually. Your advantages:

adaptation of the total fat content to different life phases.
Use for different animal species. Nevertheless, a milk adapted to the actual needs of the respective animal species.
A high calorie density, with optimal fat and protein components.

3-4 feedings per day are sufficient, thus avoiding too much liquid and protecting the kidneys from overload and damage.
The low lactose content prevents diarrhoea.

The natural milk intake of a puppy in a bitch is 20-25% of its body weight per day. (e. G. 100g puppy = 20ml milk) this may not seem like much at first glance, but more does not correspond to the puppy's physiology and is therefore harmful.

The food must be highly concentrated because too much liquid will strain the digestive tract and overload and damage the still underdeveloped kidneys. .

The nutrient density in CarniLac is adapted to breast milk. This means that only with CarniLac is it possible to supply the required quantity and quality of nutrients and still maintain the total drinking quantity intended by nature.

With CarniLac, puppies are fuller for longer, i. E. they sleep more and are therefore also satisfied with less frequent meals!

If your puppy drinks 5 ml per meal out of 100g body weight at four meals per day, this is sufficient, as you will see from the weight gain.

Of course, you can also spread CarniLac over 12 meals, but more frequent meals will only lead to a reduced intake per meal. The total intake per day remains the same.

Info: Dogs and cats have a very short milk flow. This means that milk is only produced for a short time per suckling. So, in order to meet their nutritional needs, puppies have to drink 8 to 15 times a day. However, a newborn's stomach could absorb much more milk per meal than the mother provides per feeding.

It is quite possible that the puppy will need larger or smaller amounts on individual days.
However, the daily amount of 20-25% of the body weight should not be exceeded in the long term. This can lead to overfeeding of the animal and associated digestive disorders.
If the recommended amount is not reached in the long term, the puppy may become undernourished. If there is a lack of appetite or weakness in drinking, a vet should be consulted immediately.

You can also spread the daily amount over more frequent feedings with smaller amounts, but the total daily amount should not be increased.

Boil water, let it cool down a little and stir in the milk powder at a temperature of 50 c until it is free of lumps. Add the oil, mix everything well again, let it cool down and feed at a temperature of 37c! Check the temperature on the wrist before feeding.

Your puppy should eat about 15 - 20% of its body weight in food per day when hand-feeding.

For dogs: (250g puppy):
Mix 8g of milk powder (1 large scoop) per 40ml of water and 4ml of oil for 50ml of finished milk.

For cats (230g kitten):
For 46 ml of finished milk, mix 8g of milk powder (1 large measuring spoon) per 36 ml of water and 4 ml of oil

One large measuring spoon holds 8 g of carnilac powder.
The small measuring spoon contains 1.5 g carnilac powder.

The milk should always be prepared as fresh as possible. To prevent oil and liquid from segregating, shake the bottle with the finished milk again immediately before feeding, also when taking breaks from drinking and feeding several puppies/kittens.

Attention: Oil and water segregate quickly unless an emulsifier is used. We deliberately avoid the use of emulsifiers and hydrogenated fats!

| | | | | |
| --- | --- | --- | --- | --- |
| Ready milk | Water | Carnilac powder | Measuring spoon | OiL |
| 9,75 ml | 7,5 ml | 1,5 g | 1 small measuring spoon | 0,75 ml |
| 19,5 ml | 15 ml | 3 g | 2 small measuring spoons | 1,5 ml |
| 50 ml | 40 ml | 8 g | 1 big measuring spoon | 4 ml |
| 100 ml | 80 ml | 16 g | 2 big measuring spoons | 8 ml |
| 150 ml | 120 ml | 24 g | 3 big measuring spoons | 12 ml |
| 200 ml | 160 ml | 32 g | 4 big measuring spoons | 16 ml |
| 250 ml | 200 ml | 40 g | 5 big measuring spoons | 20 ml |

to the dosage calculator





Dosierrechner

Wussten Sie, dass Sie aus einem Gebinde CarniLac (650g) über 4 Liter verzehrfertige Welpenmilch herstellen können?

Bitte wählen Sie ein Tier:

Schritt 1: Die Menge?

Gewicht (in g)


With different amounts of oil added, carnilac is suitable for motherless rearing of dogs, cats, ferrets, hedgehogs, hares/rabbits, squirrels, dormice, forest dormice, degus, guinea pigs, rats, felines, bears, red deer, seals.

CarniLac can be individually adapted to the animal species and is therefore perfectly suitable!

Visit our dosage calculator for an individual calculation.

To the dosage calculator





Dosierrechner

Wussten Sie, dass Sie aus einem Gebinde CarniLac (650g) über 4 Liter verzehrfertige Welpenmilch herstellen können?

Bitte wählen Sie ein Tier:

Schritt 1: Die Menge?

Gewicht (in g)


Below you will find reference values which are based on the optimal weight development (starting from 20% of the body mass daily). You can adjust the amount of oil according to saturation, weight development and faecal condition.

| | | | | |
| --- | --- | --- | --- | --- |
| Ready milk | Water | Carnilac powder | Measuring spoon | OiL |
| 9,75 ml | 7,5 ml | 1,5 g | small measuring spoon | 0,75 ml |
| 19,5 ml | 15 ml | 3 g | small measuring spoons | 1,5 ml |
| 50 ml | 40 ml | 8 g | 1 large measuring spoon | 4 ml |
| 100 ml | 80 ml | 16 g | 2 large measuring spoons | 8 ml |
| 150 ml | 120 ml | 24 g | 3 large measuring spoons | 12 ml |
| 200 ml | 160 ml | 32 g | 4 large measuring spoons | 16 ml |
| 250 ml | 200 ml | 40 g | 5 large measuring spoons | 20 ml |

When stored properly, the closed can of carnilac has a shelf life of 18 months.
After opening, CarniLac should be used within 6 months.
After the expiry of these periods, the ingredients may lose their quality and harmlessness. The manufacturer's liability ends when the time limits expire.
Carnilac powder can also be frozen in airtight packaging. This extends the shelf life by a further 6 months.

CarniLac should be stored in a cool, dry place away from light, e. G. In a hallway or other cool living space. It should be protected from direct sunlight, strong heat and high humidity.

After each powder withdrawal, the package must be tightly closed again.

If stored incorrectly, carnilac may clump or spoil prematurely.

CarniLac can also be fed to adult animals with a high energy and protein requirement. As an extremely energy-rich and particularly easily digestible feed with the very best protein quality, it is especially suitable as a feed supplement for:

pregnant and lactating animals
weakened and emaciated animals
sick and convalescent animals
sporty dogs
poor eaters

feeding recommendation for adult animals:
Mix CarniLac with a little water, or mix it into wet food or curd.

Please reduce the amount of oil to half as an adult dog needs more protein and less fat than a puppy. CarniOmega, which is rich in omega-3 acids, is particularly suitable as an oil for adult dogs.

CarniLac is free from fragrances, flavours and preservatives. It does not contain any colourings or synthetic flavours.

By adding fresh oil, it is possible to do without hydrogenated fats in the powder mixture. These can lead to the formation of trans fatty acids.

With CarniLac, you can determine the total fat content of the milk yourself by adding vegetable oils.

The fat requirement of the puppy is constantly changing. With CarniLac it is possible for the first time to feed a milk that corresponds to the puppy's body development, just as nature intended..
With CarniLac you can mix a milk for rearing that is really adapted to the actual needs of the respective animal species.

Maize germ oil
Sunnflower oil
Soya oil
Wheat germ oil

Linseed oil, rapeseed oil, fish oil, olive oil and butterfat must not be used due to the high content of polyunsaturated fatty acids and the fatty acid composition. These oils cause significant digestive disorders in puppies and kittens and can cause kidney damage.

For adult animals we recommend: CarniOmega

Please use only the following oils, they are well tolerated and diarrhoea is avoided:

Maize germ oil
Sunflower oil
Soya oil
Wheat germ oil

Bitte beachten: Please note: if thinner faeces occur, you can reduce the amount of oil slightly.

To the dosage calculator





Dosierrechner

Wussten Sie, dass Sie aus einem Gebinde CarniLac (650g) über 4 Liter verzehrfertige Welpenmilch herstellen können?

Bitte wählen Sie ein Tier:

Schritt 1: Die Menge?

Gewicht (in g)


| | | | | |
| --- | --- | --- | --- | --- |
| Ready milk | Water | Carnilac Powder | Measuring spoon | Oil |
| 9,75 ml | 7,5 ml | 1,5 g | 1 small measuring spoon | 0,75 ml |
| 19,5 ml | 15 ml | 3 g | 2 small measuring spoons | 1,5 ml |
| 50 ml | 40 ml | 8 g | 1 big measuring spoon | 4 ml |
| 100 ml | 80 ml | 16 g | 2 big measuring spoons | 8 ml |
| 150 ml | 120 ml | 24 g | 3 big measuring spoons | 12 ml |
| 200 ml | 160 ml | 32 g | 4 big measuring spoons | 16 ml |
| 250 ml | 200 ml | 40 g | 5 big measuring spoons | 20 ml |

Yes, milk that has already been mixed can be reheated. To do this, you should mix the milk with boiled water and store it in a boiled container in the refrigerator. This way, the mixed milk can be kept for about 12 hours.

However, the milk should always be prepared as fresh as possible. To prevent the oil and liquid from separating, shake up the bottle with the finished milk again immediately before feeding, as well as when taking breaks from drinking and feeding several puppies/kittens.

Puppies and kittens have a limited lactose digestion, so cow's milk, goat's milk, condensed milk and baby food are absolutely unsuitable. In the long term they lead to life-threatening digestive disorders (including diarrhoea).

Dog milk

Cow milk

goat milk

Water

78%

87,2%

86,6%

Protein

7,5%
(35,7%)

3,5%
(27,3%)

3,6%
(26,85%)

Alb./Glob.

2,5%
(11,9%)

0,7%
(5,46%)

0,6%
(4,47%)

Casein

4,5%
(21,42%)

2,8%
(21,87%)

2,9%
(21,63%)

fat

8,8%
(42%)

3,8%
(29,68%)

3,9%
(29,1%)

Laktose

3%
(14,2%)

4,7%
(36,71%)

4,7%
(35,06%)

Calcium/100 g

240 mg

119 mg

133 mg

Puppy: CarniLac is ideal for the preparation of puppy paps.
Pregnant and lactating animals: : during the entire pregnancy and suckling phase
Weakened and emaciated animals: : until normal weight is reached
Sick and convalescent animals: : until normal weight is reached.
Sporty dogs: : permanent supplementary feeding